(Move your mouse over the above links to select a page to navigate to.)
.: New Member Information :.
Welcome to the home of the Harley Owner's Group - Canberra Chapter!
On the FIRST SATURDAY OF EVERY MONTH we hold an information session for anyone considering joining and a ride for all new members.
There's always the common questions asked of Harley owners, and we may be able to answer a few for you. If you want to know things like:
Are they really as bad as they look?
What do all the patches mean?
Why do they wear leather?
Why do they call themselves strange names?
What's all this formation riding stuff?
What are rallies?
Have a look at our Events Calendar to see just what we have coming each month and browse through the Photo Gallery for some of our best memory making moments of previous rides and journey's.
Bring the family along on Saturday's to meet some of the members families and get some friendly advice, help and/or just enjoy the company of other Harley loving people. Before the BBQ and new members ride, enjoy a coffee from the Café and browse through the shop.
**Summer is here ... and with the warmer weather comes a small change to the routine. While the weather is so warm, we will enjoy a BBQ breakfast kicking off around 9am with bacon and egg sandwiches. Come and meet new people and head out for a ride following a social breakfast. See you there!**
Just in case you have some doubts or feel a little intimidated by the club, click on the Testimonials tab and read about other people's experiences of joining the club and making new friends while enjoying some of their greatest experiences on the road.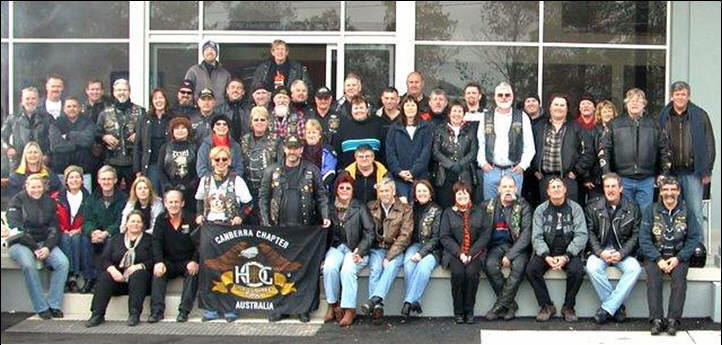 So come along and join in the fun of one of Canberra's largest single brand motorcycle clubs and have a chat with a few of our many friendly members. Who knows, you may just like what you hear and make some very good friends along the way!!
Where and when – First Saturday of every month at Robbo's.
The session usually starts at about 10:00am with a quick introduction and brief at 10.15am with one of our Road Captains over coffee at Robbo's and then we'll go on the new members' ride at 11.00am (destinations and routes announced by Road Captain on the day). We encourage all members to participate. After the ride meet some more members and socialise at the sausage sizzle.
But why wait? There is an information desk set up at Robbo's every Saturday where you can go ask questions, buy merchandise, meet members or submit your member application. So come alone and say g'day!
If you have additional questions regarding membership, rides, events etc, go to the Committee Contacts page and shoot us and email